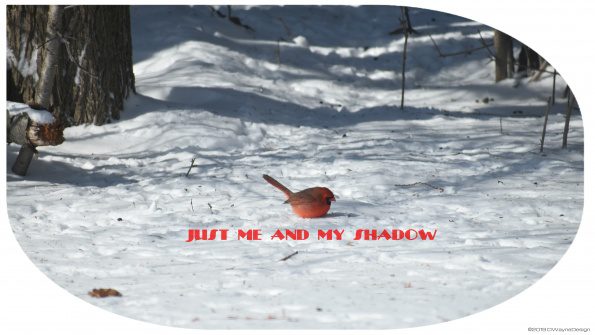 Have I mentioned how much I love cardinals? LOL! This noon I came inside kind of bummed. Saturday afternoon/evening I managed to get the driveway in pretty good shape but it had started raining as I was finishing up. Sunday morning woke up to huge snowflakes falling from the sky. Ken did a quick plow around the driveway before heading up to Courtney and Joey's place. We had some major blizzard like winds going on with sub zero wind chills. Later in the afternoon and evening when I went out to clean up the drifts half of the circular driveway had become quite narrow and there was several inches of slush down under the snow. Well the winch cable frayed on me again before I was able to finish. The plan was to work on it Monday after Ken got home from work. He decided to take his lunch hour at home to work on it. Well it proved to be a more difficult fix than last time and we needed to resume after work and picking up some more parts.
I came in feeling a bit defeated but could not help but notice the splash of red through the sun room windows. My male cardinal was playing in the yard to cheer me up. It has been a while since I have uploaded a photo to my National Geographic Your Shot account and managed to capture this plus another soon to be coming DWayne Design graphic and two what I think are kind of awesome bird in flight captures for NatGeo in collage below.
Well the hook at the end of the winch cable was really wedged into the plow assembly as in not coming out without extreme effort and the winch cable itself managed to become very tightly jammed. Ken purchased a new hook to attach to cable coming out of winch. We back the 4 wheeler out of garage dragging plow to the nearest tree which he tied a rope around to attach the new hook too hoping it would pull free while I backed up. Yay, it worked and I then backed down the driveway to let the winch pull me to back to the tree in neutral. Then I back up again and let the winch wind the cable back in while Ken held tension on it. I thinking out loud said too bad we could not just attach this hook to the plow instead of trying to dislodge the original hook. Well low and behold that worked and I was able to clean up the driveway so hopefully Ashton's bus can pick him up in the morning. And I think we are ready for the next snow storm tomorrow. Bring it I say. LOL!