Life has just been so much more crazy busy than usual lately. I have been missing out on numerous photo opportunities too. Of the photos I have been able to capture there has not been any time for me to sort through them, weed out the good ones lol. There has not even been time for me to throw together a new DWayneDesign creation for the few that I know exactly what I want to do with.
Guess I have really only noticed squirrels eating acorns prior to moving to this house three years ago where there are black walnut trees. The other day walking into the sun room a beautiful big red round shape in a tree caught my eye. I thought oh wow, that must be a very large downy woodpecker. Not too crazy of a thought as I frequently hear a woodpecker pecking at the house, in a corner where I can not see from the windows, from the sounds of it I am expecting a large bird lol. I quickly grab my camera and realize that it is instead one of my black squirrels who snatched the apple that Ashton said did not taste good at breakfast that I had just thrown out under the rabbit tree. That is the big tree out the back of the sun room where rabbits are frequently seen.
Now this is even more interesting. As usual Cooper comes running as soon as he hears me turn on my camera. Seriously, I can hear him snoring in another room and turn on my camera as slowly as possible to nearly eliminate the noise and he comes racing into the sun room barking up a storm which in turn scares away my close by photo subjects.
Despite my love for nature photography and very high quota of photos taken I am still very much a novice. I use a long lens so I can zoom in for closeups but this in turn makes taking photos in close range more difficult. Trying to capture subjects in trees can be a challenge with all the numerous untamed branches in my line of vision. I was heading out so I had to let this unique opportunity be.
I can not stop thinking about how great a photo capture of a squirrel eating an apple in a tree would be for an apple of my eye quote. So you guessed it, I throw an other apple under the same tree to see if I might catch a photo.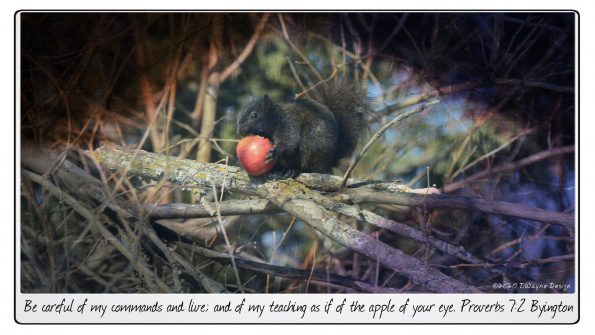 Be careful of my commands and live; and of my teaching as if of the apple of your eye. — Proverbs 7:2, Byington